Closer Circuit Television (CCTV)
Are you experiencing stock shortages?
Are you worried about staff movements?
Have you not been able to claim from insurance due to lack of evidence?
Damage to manufacturing machines with no evidence?
Customer complaints about short stock on delivery?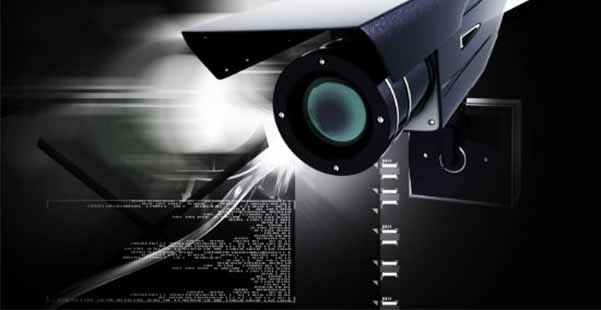 Gracan is long established and well experienced in servicing commercial and industrial markets. We've actively kept abreast with the latest technology and specialise in the supply, sale, rental, installation and maintenance of all CCTV and related products. We maintain strong relationships with our suppliers to ensure we offer the best surveillance brands and ultimately the best products and service; and our track record stands as testimony. Gracan will tailor make a solution around your concerns.
10 reasons why Gracan are the preferred CCTV Specialist
• We Stock the latest electronic security, ensuring that we are keeping up to date with the latest technology at all times.
• We are constantly training our staff to keep up to date with technology.
• We offer a great rental option for all electronic security at your premises.
• We offer convenient service level agreements.
• We maintain strong relationships with our local and international suppliers.
• A sublime track-record with happy customers
• Established in 1988
• Free security consultations and quotations
• Excellent turnaround times
• Service nationally
Our values are around our service and our customers being happy and having an enjoyable experience with us. We felt that we had to find like-minded suppliers.
Dahua's Core Values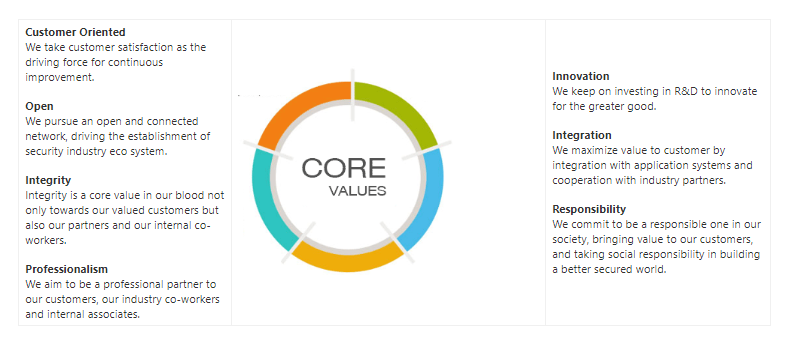 Ultra High Definition
HDCVI technology supports up to 4K ultra high definition resolution. With 4 times the pixels of 1080P, it presents a true-to-life image with impressive clarity that captures even the tiniest of details. As the very first technology to bring 4K-over-coax to the market, HDCVI comes with a complete product portfolio. The 4K box camera (DH-HAC-HF3805G) features Starlight capability and offers a full colour image even in extreme low-light environments. The 4K IR bullet and dome cameras (DH-HAC-HFW3802E-Z & DH-HAC-HDBW3802E-Z) feature 120dB true WDR and long-distance IR range. The 4K multi-sensor camera(DH-HAC-PFW3601-A180) and fisheye camera (DH-HAC-EBW3802) capture a panoramic image which covers a wider monitoring area.
4 Signals over 1 Coaxial Cable
HDCVI technology can simultaneously transmit 4 signals (audio, video, data, and power) over 1 coaxial cable. HDCVI cameras offer high resolution video, support audio input or built-in mic, and communicate with the HCVR through control signals. Moreover, Power-over-Coax (PoC) technology has been made available for integrated power-supply requirements. HDCVI cameras are able to cover multiple signal acquisition demands, further simplifying the installation and deployment of surveillance systems.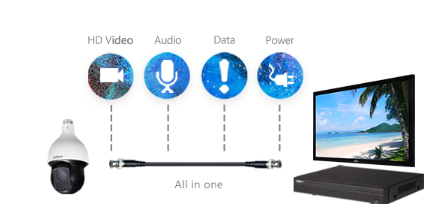 Long Distance Transmission
HDCVI technology guarantees long-distance transmission in real-time without any signal loss. Based on real-world scenario testing in Dahua's test laboratory, it supports the following distances at the corresponding resolutions.

Whether in constructing a new system or upgrading an existing obsolete system, the deployment of an HDCVI solution requires only minimal basic labor and costs. Users are able to enjoy the advantages of modern technological innovation with their existing analogue infrastructure. Even if the current system is using other HD-over-coax technologies, HDCVI is perfectly compatible and can be easily integrated, owing to its full compatibility with HDCVI/AHD/TVI/CVBS/IP. HDCVI devices are always plug and play, making construction flexible, and enabling no-hassle network configuration. In addition, HDCVI systems allow the reuse of existing cables as it is compatible with both coaxial cable and UTP.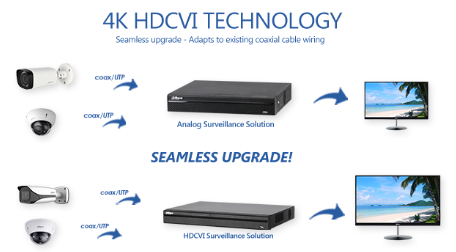 Please complete the form below and we will contact you shortly.